Can I use EasyMail7 with the Yahoo SMTP settings? What SMTP do I need to enter?
Yes, you can configure the EasyMail7 newsletter sending system to use the Yahoo!Mail email settings to send email newsletters and other types of email communications.
Yahoo!Mail SMTP Settings for EasyMail7
Go to EasyMail7 Settings -> Email Accounts -> Add New.
Under the General tab, add your sender information – From Name, From email address (your full Yahoo email address), Reply-To address, Bounce (Return) email address, and optionally organization.
The From Name and From Email are what will appear in the From field of the emails that you send.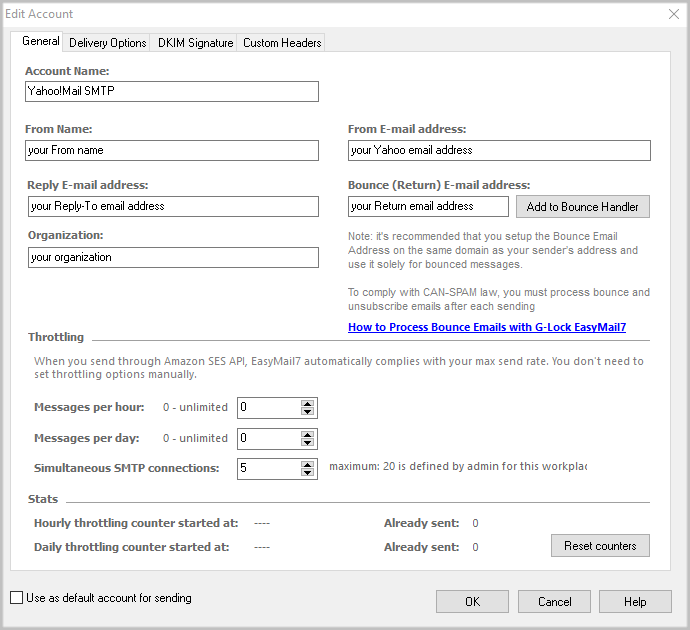 Go to the Delivery Options tab in the settings.
Enter the Yahoo!Mail SMTP settings:
*You can select Yahoo from the list of pre-defined SMTP servers to pre-fill the server information.
SMTP Server: smtp.mail.yahoo.com
Port: 587 with SATRTTLS or 465 with SSL
Check the "My server requires authentication" checkbox.
Enter your full email address of your Yahoo account and password that are associated with your Yahoo account.
Click the Test button and send a test email to make sure that your Yahoo SMTP settings are working.
If the test email is sent, click OK to save the email account.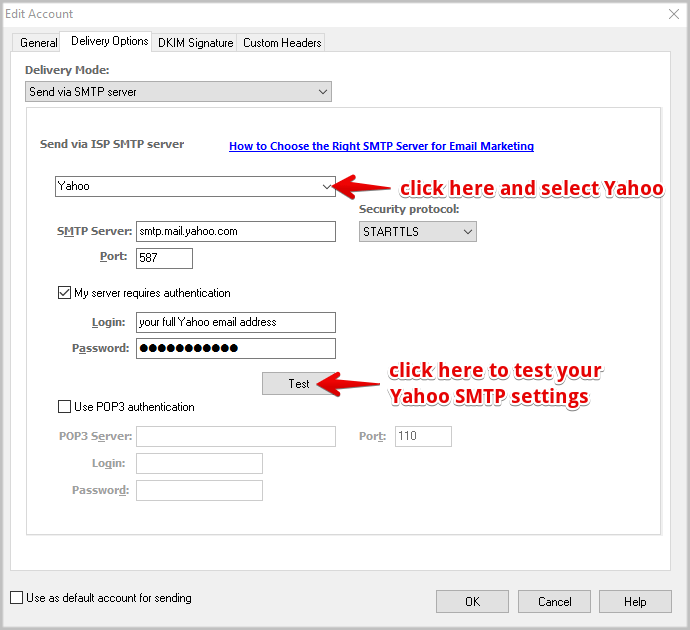 Yahoo Email Sending Limits:
– 100 emails or recipients per hour
– 10Mb per message for the free Yahoo Mail Service, or 20Mb per message for Yahoo! Mail Plus
Yahoo IMAP Settings for EasyMail7
It's important that you set up the EasyMail7's Bounce Handler for processing bounce emails.
If you are using your Yahoo account to receive bounces, enter the below IMAP settings in the EasyMail7's Bounce Handler.
Click the "Add to Bounce Handler" button under the General tab in your email account.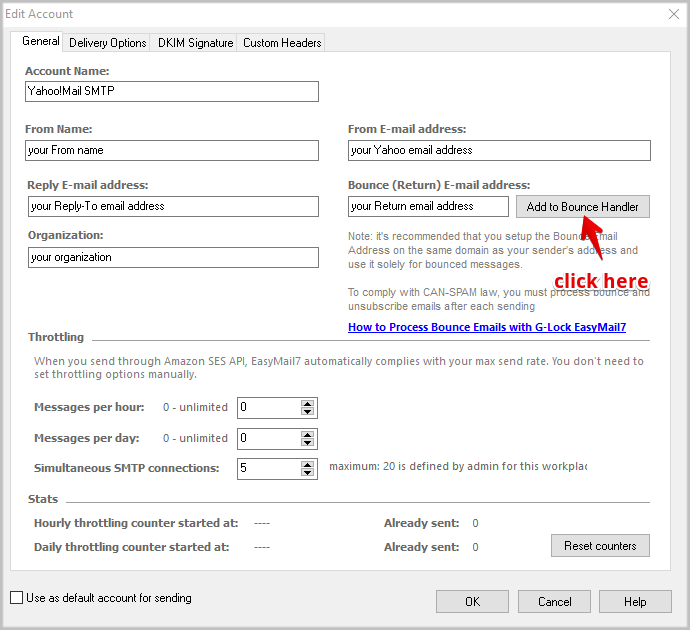 Enter the Yahoo IMAP server settings as below:
Account name: any name for your bounce account (it will show in EasyMail7 only)
Account type: IMAP
Server address: imap.mail.yahoo.com
Port: 993 with SSL
Login: your full email address (should be pre-filled)
Password: your password for your Yahoo email account
Click "Retrieve" to retrieve the IMAP folders and then choose the IMAP folder to process bounce emails from. Typically, it's Inbox.
Choose the options what to do with bounce messages and click OK.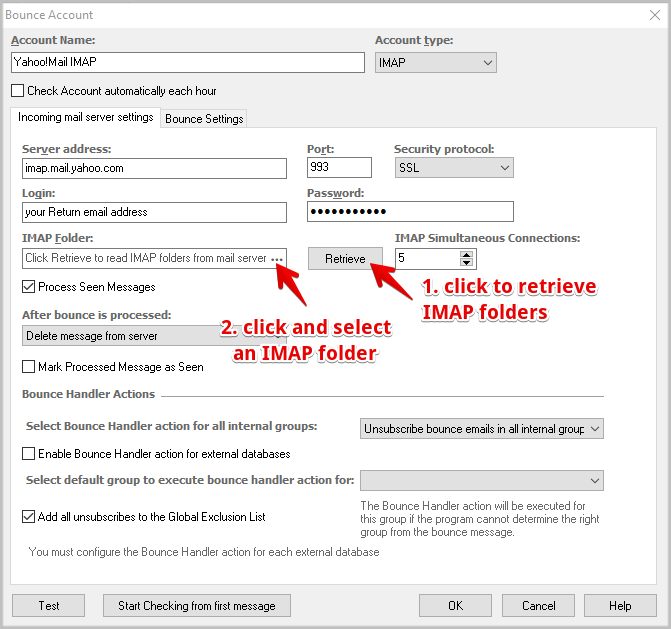 Here you can read more about Yahoo SMTP and IMAP settings
Send more, faster and better with our EasyMail7 email marketing software and spam testing service.